Business Profile
Anneke Molly – Cafe Berlin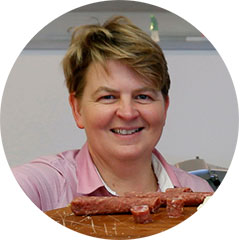 Company: Cafe Berlin
Postal:
9C Normans Rd, Strowan, Christchurch 8052
Social Media:
The new destination in Christchurch brings you a middle European food experience offering high quality products sourced locally and from the country of origin.
We offer specialities from German butchers like sausages, meat loaf and other specialities like Black Forest ham. All products are made to German quality standards and therefore all our butcher products are gluten free. With the addition of local Salami and dried meats we are the one stop shop for German food, smallgoods and breads in Christchurch.
To give the perfect European flavour we offer imported cheese from The Netherlands (like Gouda, Leerdam and other specialities), Spain, France, Switzerland and Italy as well as imported pantry goods (like mustards, dumplings, pickles and much more).
But this would be nothing without real German sourdough bread, pretzels and bread rolls.
We like to give you the opportunity to taste home made classic delights accompanied by fresh Hummingbird coffee.
Come and visit us to enjoy our specialities, we are looking forward to seeing you
Products
We offer a wide range of European specialties. German small-goods, cold cuts, sausages (of cause all gluten free) using the best New Zealand meat combined with traditional German recipes, fresh cheese from The Netherlands, Spain, France and Italy as well as a variety of pantry goods.
Cafe Berlin is happy to ship pantry goods within New Zealand. If you are after something special (either cheese or pantry goods) please feel free to ask – we will try our best to get this imported.
We are in the process of creating a web shop to make ordering easier, in the meantime please send an email to info(at)cafeberlin.co.nz for a product list or visit our facebook page to request one.
Hours
Tuesday-Friday: 9am to 5.30pm
Saturday: 9am to 2.30pm
Sunday and Monday closed
Usually we are there earlier and leave later – so just have a look, you are welcomed when we are there.