Business Profile
Clint Thorburn – BTS Engineering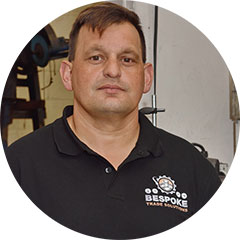 Company: BTS Engineering
Social Media:
I am a trade qualified Advanced Trade Fitter and Turner with extensive training as a welder and mechanical diagnostics engineer. I have experience with Hydraulics and Pneumatics, some saw doctoring and have spent the last 12 years as a sewing machine mechanic as well as my normal duties.
I enjoy sports and will have a drink socially now and again but have a passion for engineering that has seen me focus in this area for my working life.
Having done my trade in the Army I have had the benefit of tough and unforgiving environments to hone my skills in unforgiving situations. As impersonal as these conditions were it also taught an inclusional insight for those we regarded as our customers.
Taking that attitude into my life in the civilian world I believe in a "Quality on time" approach with an inclusional method to ascertain the best outcomes for my clients.
Building the sort of relationships that grow into trusted and faithful service provision does take time but it is well worth the effort.
For me personally I love my work, trades allow an endless opportunity for problem solving and outcome satisfaction in a real-time situation that is often not seen by those close to the situation. As an outside organisation we don't have the comfort of exposure that is endemic in many groups. This allows a clarity for repair and maintenance which gives me an advantage.
Over 25 years I have developed an extensive network of tradesmen and suppliers from all corners of the world in a vast array of equipment, products and services. It is this network and experience that I bring to Bespoke Trade Solutions and happily offer for our clients.
Going forward I hope that Corey and myself can create a service provision company that will change the way many people think about trades for the future.
"Your needs, Our Solutions"
Bespoke Trade Solutions is a start-up trade based one stop option for all your trade related needs.
If we cannot do it ourselves, we have the reliable and trusted contacts to get it done.
"Your needs, Our solutions" is the fundamental drive for our company.
Corey Kennett and Clint Thorburn are two driven gentlemen with diverse histories across a broad range of trade related backgrounds.
We cover Industrial, Commercial and Residential maintenance which is a big order but we believe we have the talent and passion to do just this.
We provide a service provision based product that is more inclusional for the totality of the requirements of the customer .This will mean greater discussion at all points of the customers organisation, from the user at the coalface to the Managers and their vision of outcome.
Bespoke Trade Solutions wants to give the customer what they really need to achieve the outcome that benefits them best.
With an understanding that every industry has its own specific needs we believe certain core fundamentals helps to give us a point of difference to the average maintenance providers.
We treat your organisation as our own, developing relationships and partnerships, we want you the customer to be successful.

Lost time is a waste, we will endeavour always where practical to give a service that minimises lost time to your organisation, this may mean working unusual hours, thinking outside of the box or having very reliable supply lines in short time to meet your needs.

Quality on time – this helps set our goals in achieving our given tasks and lets us plan our path when delivering the services we provide .

Health and safety – many organisations, company's and individual people have safety systems coming in that are not a part of their culture yet, we are happy to work with our clients to meet their systems and even offer advice if they wish to review where they stand in the trade function world of today. We will always work to go home every day safe and sound.
From Fabrication, Electrical facilitation and Mechanical diagnostics to digging a trench, putting in duct systems or fixing the leaking tap in your cafeteria we are the no fuss option.
Bespoke Trade Solutions – "Your needs, Our Solutions"
Let us help you to help yourself.