Business Profile
Ian Wallace – Ark Financial Group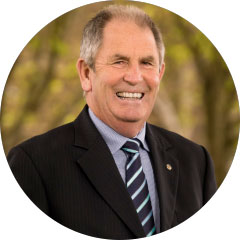 Company: Ian Wallace Consulting Services Ltd
Social Media:
I'm a people person, and helping people is what gets me up in the mornings. As an Insurance Advisor I help people structure their insurance to support their livelihood, their health, their family's wellbeing, and their business success.
Over the past 14 years it has been a privilege to assist many clients to access funds when they have made a claim due to an illness, accident, or worse.
My background prior to insurance included 30 years in the farming industry (beef, sheep and deer) on the West Coast and later in Canterbury. Farming and business have given me many life skills and an appreciation for the complex challenges that business owners and farmers face. I've also been a member of the Federated Farmers and the NZ Deer Farmers Association. Having been on the other side of the fence as it were, I'm now well placed to work with both farmers and business owners to ensure they have the right personal insurance, business protection and farm succession structures in place. I also work closely with a client's other professional advisers to ensure everyone is on the same page.
Outside of work I enjoy history/genealogy and the great outdoors. I've served on the local school Board of Trustees, and am an active member of the Christchurch Sunrise Rotary Club (2002). I also thoroughly enjoy my role as a Justice of the Peace (1988). My wife and I are fortunate to be grandparents; another of life's diverse roles I fully embrace.
With impartial, expert advice from your Ark Financial Advisor you can make informed decisions to best protect your financial future and the things and people you care about most.
Using our services will cost you no more in premiums, in fact, we aim to provide options that could save you money or give you better cover for your premiums, wherever possible. Our team are here to help and to support you.
Life Insurance
Who will look after your family if you're not there?
Life insurance helps you to provide financial security for your loved ones when you die.
Trauma/Disability Insurance
How will you cope if you suffer a major health trauma?
Trauma Protection helps you to cope financially in the event of a major illness or injury, reducing stress at an already stressful time; and letting you get on with the job of recovery.
Income Protection
What will happen if you can't earn an income? How long will your savings last?
Income Protection gives you additional financial security by providing you with a replacement monthly income when illness or injury prevents you from working and earning an income yourself.
Mortgage Protection
What will happen if you cannot pay your mortgage?
Mortgage Protection is similar to income protection but not offset by on-going income e.g ACC.
Medical Insurance
Could you afford to pay for private medical treatment?
Health insurance gives you the security of knowing you have protection and options available should you experience health issues.
Business and General
Starting a new business or buying a home?
Let us tailor a package that covers your general insurance for assets, fire, and theft based on your individual personal and business requirements.
Superannuation/Kiwisaver/Investments
Will you have enough funds to retire on or will you out live your retirement savings?
A retirement plan will ensure you have the savings in place for when you retire. Don't leave it to chance. We'll help you assess what you need and how to get there.
UK Pension Transfers
Moving to NZ from the United Kingdom and want to bring your pension fund with you?
We can give you advice on the pros and cons of transferring your pension so you can make an informed decision.
ACC Levy Advice
Looking for ACC advice?
We understand the inside-outs of ACC for self-employed persons, and can assess whether your premiums are working to give you the best all-round cover.