Business Profile
Vicky Eastwood – Arahi Tours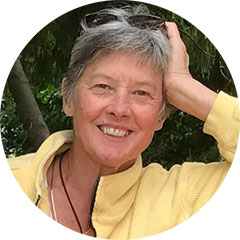 Company: Arahi Tours
Social Media:
In my past, I have been an avid traveller, skier, cyclist, I started out hitchhiking around America and Canada and was spoilt by the locals. Knee deep snow was a challenge, but my adventures continued through Canada. I've ventured to many countries – Italy, China, South Africa, UK, Indonesia, Nepal, Everest Base Camp by bike.
Much of my working life has been spent as a registered nurse. I've also represented New Zealand in cycling and represented my province in One Day Events equestrian.
My greatest achievement was to place 7th in Stuttgart World Championships with our NZ Women's Cycling Time Trial Team and No 1 in New Zealand on the Velodrome.
I love being active, and now I'm older I love to go a bit slower. During winter I like to hit the snow on skis and my snow bike. I love taking photos with my Nikon camera, so I'm keen to take Photography tours, although, I'm not an expert.
I have had such a positive experience overseas, that I feel that it's time to give back. I want to share our beautiful country with visitors to New Zealand and the Christchurch region. I care about people. I am spontaneous, and I want you to enjoy your time in New Zealand. My aim is to give you an amazing experience that will create lasting memories.
Come and join me for lots of laughs, stunning views, and local stories on a personal tour around Christchurch, the Mountains, rivers, lakes, and surrounding areas.
We are a small, boutique tour company, lead by Vicky who is a member of the Professional Association of Tour Guides in New Zealand.
Vicky's tours are uniquely designed, client-driven, flexible and relaxed. We explore the South Island Christchurch, Akaroa, see our sheep farms, hike a reserve, brew tea – coffee mulled wine half & full day tours.
We offer a range of tours from half to full day tours and more: Book now to design your unique adventure with Arahi Tours
Please contact Vicky to discuss and select a special personalised custom tour.
This may include remote harbours on Banks Peninsula, see Akaroa Harbour, go stand-up paddleboarding at night, visit Tekapo or Arthur's Pass, take a walk around bays or farms, with stunning views from up high.
Allow me put together a 'tailor-made' tour just for you?