Business Profile
Murray Powell – Motivation DeSign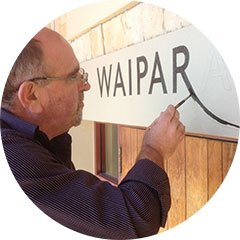 Company: Motivation DeSign
Postal: 104 Main North Rd Woodend North Canterbury
Social Media:
Our company began life in 1983 when Murray Powell set up business as a Signwriter. Operating from a small workshop in Woodend a network of clients was slowly but surely built along with a reputation for quality work at a reasonable cost.
Within a few years the computer revolution took hold of the signmaking industry and seeing the potential of computerised equipment a vinyl cutting plotter and a wide format digital printer was introduced. The new technology has expanded the product range from traditional signwriting to state of the art high resolution prints.
Business Cards
You will be surprised at what we can do!  Range includes stickers, pens, brochures, folders, letterheads, docket books and a whole lot more!
Vehicles
From basic lettering to full wrap prints on vehicles, we can design and apply anything. Let your imagination go wild! Vehicle signage is the way!
Logos
We can design your logo. From basic to complex – we can design something to suit your business. Your logo can then be carried through to all your branding.
Bannners
Assorted banners, including flying banners, hanging banners, rope, eyelets or velcro banners, as well as truck curtain sides. In almost any size.
Footpath Signs
Take advantage of that passing trade and use a footpath sign when you want to attract the attention of passing pedestrians or traffic.
Building Signs
We have designed, manufactured and installed a wide variety of signs for shop frontages, factories and warehouses all over Canterbury.
Traditional Handwritten Signs
Yes!! We still signwrite! From sides of buildings, day-glo shop windows, promo corflutes to ticket writing and showcards. Even with technology racing ahead, there will always be a place for handpainted traditional signwriitng.