Business Profile
Jim Chen – Triple Star Cleaning Services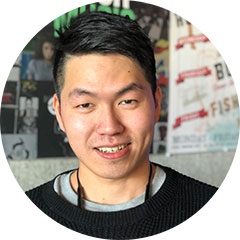 Phone: 03 390 1223
Free Ph: 0800 90 1223
Mobile: 021 023 57774
Email: info@3plestar.nz
Website: www.3plestar.nz
Company: Triple Star Cleaning Services Ltd
Social Media:
Hello all, my name is Jim
I have my first part time job as a cleaner in Wellington on 2008 until 2012, and bought a Commercial cleaning Franchises with my business partner until 2014, and on 2014 I came down Christchurch from Wellington with only $500 left on my pocket after bought a engagement ring for my wife when we have our baby daughter, I started my own company TRIPLE STAR Cleaning on July 2014, I deeply believed the huge demand in Christchurch, from a little Toyota vitz I drove down from Wgtn to here and now we have 2 van on the road, from I was the only cleaner in the company, and now I have 6 people who are working for me today. As the owner and operating in the company, I always make sure my clients are always happy with the services, any comments/complaints about our services are always reply by the owner.
Triple Star Cleaning Services
Triple Star Services is a family owned and operated cleaning services company in Christchurch NZ, that focuses on commercial and residential cleaning services. Our founding team members have over eight years' experience in cleaning services, and we aim to provide top quality cleaning services at very competitive rates to our valued customers.
Triple star services was started on the premise of providing clients with a unique commercial and residential cleaning service that would give you a vacation feeling in your business or home. We offer the highest quality professional cleaning services in Christchurch.
Triple Star specializes in cleaning of apartments, houses, condominiums, offices and commercial spaces. We have the most experienced and dependable staff ready to deliver quality cleaning services you deserve.
Our company is made up of staff is responsible, and this accounts for the integrity and high standards of Triple Star services. We carefully screen all employees through references and background checks. All of our cleaning sites are insured, and so the security and safety of your home and business are guaranteed.
We pride ourselves on our reputation which is one of quality service that is second to none. Our staff is always attentive to all of our customer's request needs, for this reason, we have implemented a Scheduling System that is sophisticated and that allows us to service different types of clients with various scheduling needs.
At Triple Star, we have always believed that our success depends solely on our customers' complete satisfaction. You can be assured that you will receive the highest levels of service that can be provided by the cleaning industry. We achieve that by offering you a unique set of services that creates a feeling of order and relaxation to your business or home!